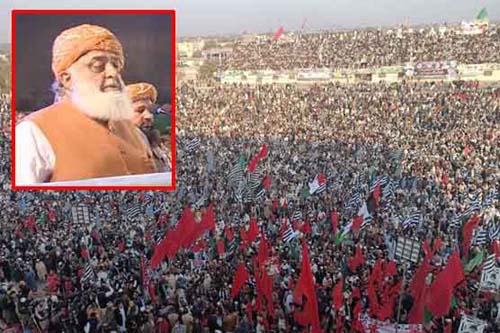 Machh tragedy greatest proof of unrest in Pakistan: Fazlur Rehman
Bannu: Pakistan Democratic Movement (PDM) chief and Jamiat Ulema-e-Islam (JUI-F) leader Maulana Fazlur Rehman has strongly condemned the massacre of Hazara community members in Machh, saying that it was the biggest proof of unrest in the country.
Addressing a PDM rally in Bannu this week, Maulana Fazlur Rehman said that our struggle is for restoring rule of law in the country and creating an atmosphere of freedom and democracy.
He said that there was no law and order in the country, the government had failed to protect its citizens. Terrorists slaughter civilians whenever they want and the government is powerless, we strongly condemn the Machh incident.
Maulana Fazlur Rehman further said that PDM leadership has shown the nation the path to freedom and democracy. The public has woken up to rid themselves of this government.
Addressing the rally earlier, senior PML-N leader Ahsan Iqbal said that there is unrest in the country today. Since the past four days, Hazara community members are sitting on the road with the dead bodies of their relatives but Imran Khan, in his stubbornness, is sitting in Islamabad.
He said that if Imran Khan was concerned for the public, he would come and heal the wounds of the Hazara community. He was selected, not elected but now he is also rejected.
The PML-N leader said that Imran Khan's government has drowned the country's economy. Our MNAs and MPAs will resign and march towards Islamabad on Maulana's call, he added.
Ahsan Iqbal said that people are dying but all Imran Khan can think of is NRO. He said that PDM is the hope and future of Pakistan and after Nawaz Sharif's call for 'Vote ko izzat do', each citizen will ensure that their vote is not stolen if anyone tries to influence the next election.