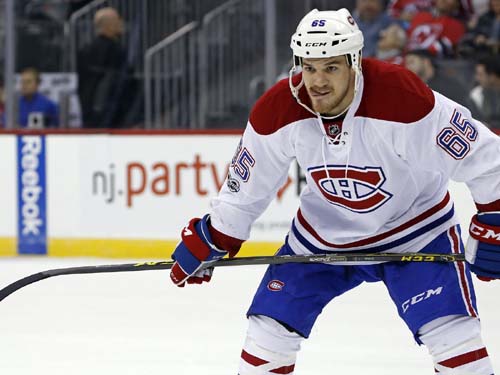 Andrew Shaw opens up about concussion and life after hockey
Charlie Roumeliotis
After being out for almost 14 months because of a concussion, Andrew Shaw is back with the Blackhawks to open training camp ahead of the 2020-21 season. And he's as excited as ever to get going.
But it was a long journey to reach a point where he felt 100 percent again.
On Wednesday, Shaw opened up about his recovery process and what went into the decision to return to playing. He acknowledged retirement "crossed my mind."
"It really was just committing to making sure I felt better," Shaw said. "Whether or not I was going to play or not wasn't my first goal. My first goal was to get better and feel like myself. … Obviously there were times where it was tough and exhausting but grinded, grinded every day. Grinded months to a year to get where I am. It's good to know I can get back to feeling good."
The lengthy time off allowed Shaw to heal his entire body, not just his head. He noted his back, shoulders, neck, hips and legs were areas of focus, and started doing yoga and Pilates. He also worked on his diet and fell in love with cooking, essentially making every meal for his family over the summer.
Shaw didn't want to return if he wasn't in the right mental space, but he looks and sounds like a player who is. But will he play a different style going forward?
"Maybe fine-tweaking, but how I play is why I'm here," said Shaw, who's wearing a visor for the first time in his career. "I'm going to stick to that as best I can without putting myself in vulnerable situations. … I can't play scared. If I play scared, I'm just going to end up putting myself in vulnerable positions."
Head coach Jeremy Colliton knows exactly what Shaw is going through. His career was cut short because of concussions, and he communicated with Shaw frequently throughout the offseason.
"We've had a lot of talks through this process," Colliton said. "He wants to play and I understand that all too well myself. Taking the time off that he has, he seems to be very confident in his health and he's put a lot of work in off and on the ice to prepare himself as best as he can to be a big part of our team. That just makes some happy. I'm happy for him, I'm proud of him."
Shaw knows he's not going to play hockey forever. Nobody is.
While the time off allowed him to fully heal, it also put things into perspective for the 29-year-old two-time Stanley Cup champion. And he's at peace with what life will be after his playing career ends, whenever that comes.
"It was tough being away from the game and guys in the room, but to be able to spend that time with my family helped me push through this, helped me get better," Shaw said. "It let me see life without hockey and knowing that if anything happened to me, injury wise, I'm good. I'm OK without hockey. I'll survive. Andrew Shaw is not hockey. I have a life outside of hockey. I have a family, I have friends.
"But I missed it and I'm going to play as long as I can, just knowing mentally that Andrew Shaw is going to be OK with life without hockey. It was nice to feel that. I think that drove me to be a little bit hungry to play hockey as long as I can as well, knowing that life after hockey is going to be pretty amazing."