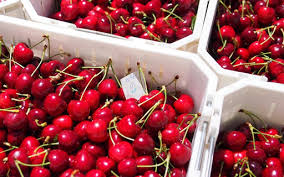 China helps Pakistan for safe Cherries export as Islamabad prepares to send first batch to Beijing
Gwadar Pro
Islamabad: China is helping Pakistan for safe and protected export of the delicate cherries to the Iron Brother as Islamabad prepares to send the first batch to Beijing this spring, a senior cabinet member said.
Until now the Pakistani cherries' export had been hindered as Pakistan lacked cold chain management, market information system, packaging and processing facilities.
Adviser to the Prime Minister on Commerce and Investment Abdul Razaq Dawood told Gwadar Pro that China was providing the technical help for secure delivery of the delicious fruit.
"China is helping us now. We are also working on our own. We will send the first batch of Cherries to China in the spring," he said, adding Pakistani mangoes were also very popular in China.
Grown in the Pakistani northern areas, the fruit is one of the most loved by the people worldwide. With the arrival of summers, trees spread over 300 acres of land in Swat and Gilgit are ready with the fruit to be plucked out, packed and sent out.
According to farmers, more trees need to be cultivated in the area to meet the high demand. They have demanded of the government to provide them funds and facilities to increase production.
Another area where cherries are grown is the Balochistan province. The fruit possesses several health benefits. Cherries grown in Pakistan are also exported but the fruit gets damaged on its way. The exports could get sweet boost from ever-growing Chinese demand for the exotic fruit
In a separate interaction with the journalists, Dawood expressed satisfaction with the export performance but admitted that much more needs to be done.
Dawood paid tributes to Pakistan's exporters for the performance during testing times and urged them to aggressively focus on capturing a larger share of international exports. He said that exporters were Pakistan's asset and he valued them greatly.
Dawood said the exports in December 2020 had increased by 18.3pc percent to $ 2,357 million as compared to $ 1,993 million in December 2019, showing an increase of $364 million. The Adviser said this was the highest export ever in the previous month of December 2020.
He said the export figures showed the resilience of the economy of Pakistan and was a vindication of the government's policy to keep the wheels of economy running during COVID-19 pandemic.
Earlier in a meeting, the Advisor was briefed that in December 2020, an increasing trend has been witnessed in the export of value-added and non-traditional products including Tobacco and Cigarettes (212.2pc), Ethyl Alcohol (128.6pc), Stockings and Socks (49.8pc), Home Textiles (38.1pc), Women's Garments (37.8pc), Jerseys and Cardigans, (37.3pc), Gloves (25.5pc), T-shirts (16.9pc), Rice (15.5pc) and Fruits and Vegetables (13.4pc) as compared to December 2019.
He was also informed that decreasing trend was noted in export of mostly non-value-added products like Cotton (-93.3pc), Dry Fruit & Nuts (-78.5pc), Maize (-61.2pc), Plastics (-41.4pc), Cement (-8.5pc) and Raw Leather (8.5pc).
In December 2020, exports increased to Indonesia (151.6pc), China (92.5pc), Russia (63.2pc), United Kingdom (46.9pc), Germany (37.6pc), Netherlands (37.5pc), Belgium (32.8pc), Australia (30.5pc), Poland (27.9pc) and the United States (27.2pc).
There was decrease in exports to Kenya (-40.5pc), South Korea (-38.8pc), Thailand (-24.0pc), Japan (-22.3pc), Bangladesh (-20.3pc), Sri Lanka (-19.9pc), United Arab Emirates (-10.5pc) and Afghanistan (-5.1pc).
The Adviser was informed that the provisional export data for the period July-December 2020 showed that the exports increased by 4.9pc, from USD 12,104 million as compared to USD 11,533 million during the same period in 2019. This is despite the uncertainty and contraction in Pakistan's major market caused by the COVID-19 pandemic.
During July-December 2020, the exports of value-added and non-traditional products increased especially in Clothing Accessories (242.3pc), Food preparations (120.9pc), Tobacco and Cigarettes (84.5pc), Tents and Canvas (57.5pc), Jerseys & Cardigans (33.1pc), Stockings & Socks, (27.2pc), Pharmaceuticals (25.1pc), Women's Garments (22.2pc), Home Textiles (16.1pc), Ethyl Alcohol (14.1pc) and Textile Made-up (8.9pc) as compared to the same period last year.
Dawood said during July-December 2020, Pakistan's Top ten markets on the basis of export growth are Philippines (39.7pc), Indonesia (39.2pc), Denmark (22.8pc), United Kingdom (20.8pc), Australia (19.1pc), United States (18.4pc), Poland (16.3pc), Germany (15.1pc), Netherlands (12.9pc) and China (7.5pc) as compared to the same period in 2019.