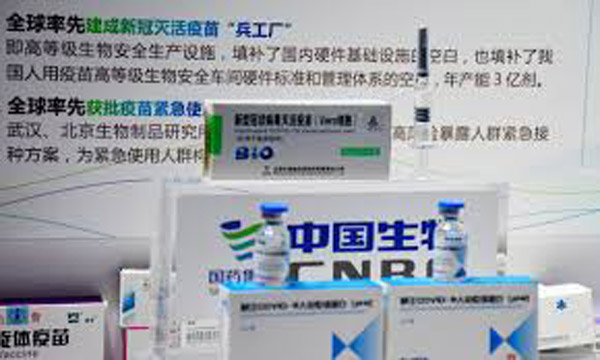 China to eventually make COVID-19 vaccines free
Global Times
Beijing: China will ensure the COVID-19 vaccines be affordable to all Chinese residents. The price will depend on the scale of use but the premise is that it would eventually offer free access to the vaccines, Chinese health officials said.
The remarks came on the heels of announcements that China gave conditional market approval to an inactivated vaccine developed by Beijing Biological Products Institute under Sinopharm's subsidiary China National Biotec Group (CNBG).
Zheng Zhongwei, director of the Development Center for Medical Science & Technology of the National Health Commission, said at a Thursday media briefing that mass vaccination will roll out, and costs for the COVID-19 vaccine will be significantly lowered—this will make the vaccine affordable to ordinary Chinese residents.
Zeng Yixin, vice minister of the National Health Commission, stressed at the media briefing that the vaccine price will depend on its scale of use, but the premise is that as a public product, the vaccine will eventually be free of charge.
China's vaccines went into emergency use in June, and have provided a majority of essential workers and key groups at high risk of infection the jab since December 15. Inoculations will be expanded to cover seniors, and people with underlying diseases before being promoted to cover all residents, Zeng said.
Several provinces have rolled out free vaccinations to key and high-risk groups, including Guangdong, Zhejiang and Shandong provinces. In some places such as Wuhan, people from key groups, including students going abroad, paid 234 yuan ($35.83) for each shot.
The cost for China's nucleic acid testing has been gradually lowered with further tests. Many provinces and cities announced that they have been lowering the price for nucleic acid testing since June. Starting on June 25, the price for each test in Beijing went down from 180 yuan ($25) to a ceiling of 120 yuan at all of the city's public medical institutions.