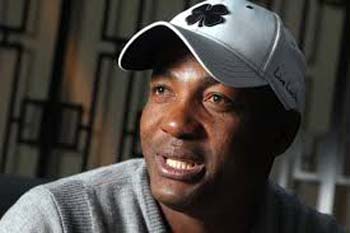 Brian Lara advises young cricketers to keep their foundation strong
West Indies legend Brian Lara is currently a part of the official broadcasters panel for the IPL 2020. Lara has seen the career of plenty of a youngsters unfold in front of his eyes. And who better than the legend himself to share a piece of advice for the young cricketers, with some, making a name for themselves in the IPL 2020.
The likes of Rahul Tewatia, Ishan Kishan, Suryakumar Yadav, Devdutt Padikkal and Ruturaj Gaikwad have impressed in the ongoing season. Lara took a cue from his playing days and said that it is important for every young cricketer to maintain their fundamentals throughout the course of their career.
A crouched stance, a high back lift – West Indies legend Brian Charles Lara was always a delight to the eye. When he stood ground on the crease, it looked difficult to dislodge him. He showed composure, and stitched long innings, to take the game away from the oppositions as no one could. He was lesson in Test cricket, and youngsters today, can still take a look at all his innings and learn the art of batting long effortlessly.
"I know there is Ranji Trophy and 4-day cricket, but just don't lose the fundamentals of the game. I remember when I started, I played 3 and 4-day games much more. And the one thing that helped me was I had played 25 ODIs before I played my first Test. Before that, I didn't know how to hit a six! But by the time I got through 5-10 ODIs, I knew I had to learn to hit sixes, to find gaps, to score quickly. That transferred into my Test cricket, and made me a more aggressive Test cricketer, more exciting to watch.
"So, my foundation from 3-day-cricket and experience from ODI cricket was used to further my Test cricket, which was the right way of doing it. That'll be my advice to these wonderful young batsmen: Keep the foundation of your game and good technique, even if they are playing T20 in the biggest league in the world," Brian Lara said.
Lara retired with 11953 Test runs, 10405 in ODIs and a bundle of memories to cherish down the years for the cricket fanatics.