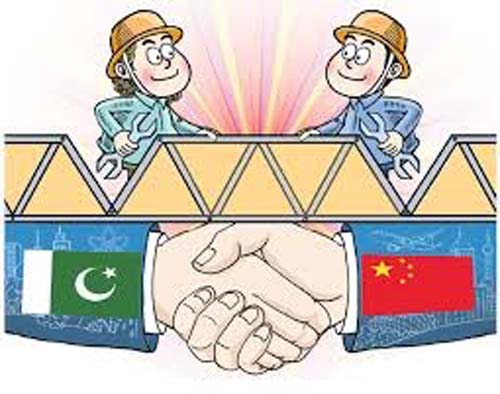 'CPEC changed my life': story of a Pakistani construction worker
Gwadar Pro
Wuhan: The video Story of a Pakistani construction worker who works under CPEC project won the hearts of audiences and secured awards at the 2nd Belt and Road (BRI) Short Video Competition. Aside from presenting CPEC's potential of sustainable development in the lives of individuals, the story also showcased Pakistani worker's work ethic and dedication, which spoke loudly for the nations' character.
The 2nd Belt and Road (BRI) Short Video competition, co-organized by China Public Diplomacy Association, News Center of the State-owned Assets Supervision and Administration Commission of the State Council (SASAC), and Global Times Online, was held in Wuhan, Central China. The competition aims to unfold touching stories of individuals from countries all along the Belt and Road, and to help to build a community with a shared future for mankind.
Under the theme of "Act in Solidarity", 500 pieces of short videos, telling inspiring stories of Belt and Road builders and beneficiaries, poured in from more than 80 countries.
The video story of a Pakistani construction worker who works with China Gezhouba Group Corporation (CGGC) INTERNATIONAL LTD.at Dasu Dam, stood out and won the audiences heart.
Naseer submitted his video, 'CPEC changed my life' through China Gezhouba Group Corporation (CGGC). He come from Kohistan district in Khyber Pakhtunkhwa Province, Pakistan and is now working at Dasu Dam, a large hydroelectric gravity dam, whose civil engineering were undertaken by CGGC.
"I used to be unemployed, and do not have stable income, as a result, my child was deprived of education." Naseer stated in the video, "My life changed drastically since I was employed by CGGC. This job enables me to provide education to my child, I have opened a small shop with my salary, and what's more, I feel respected, not only by my Chinese colleagues but also by my family."
Naseer's diligence laid solid foundation for his success, a Chinese staff from Dasu dam told Gwadar Pro. "Like many of my Pakistani friends, Naseer is candid and extremely hardworking, he took control of his life and we are all glad that it paid off."
At the Dasu dam, Pakistani and Chinese workers are bonding regardless of their nationalities. "Naseer and others would invite us to their house for dinner after work, we respect each other like brothers. CPEC has brought us together." Lu Yong, a Chinese staff from Dasu Dam told reporter.
To date, various CPEC projects have provided 700,000 direct jobs to people across Pakistan, Naseer's story is not just an exception.