New boss in the Oval and imminent regional peace
Dr Javed Ali Kalhoro
The recent US election results are quite surprising. The world, especially Pakistan, was conjecturing if Donald Trump is re-elected, the ongoing peace process in Afghanistan may reach its finale.
The Pakistan Embassy in Washington D.C. also predicted that Mr Trump is going to continue with his position in the presidential office. But now, we are witnessing a new boss in the Oval house. Majority of the pandits believed that it does not matter who wins the US presidential elections, the US policies will continue.
Former US president Barak Obama announced US withdrawal from Afghanistan and he also initiated peaceful ties with Iran. The overall process by Obama seemed to be re-shaping world politics.
Washington had already spent hundreds of billions of dollars, losing over 2400 soldiers. Along with it, thousands of innocent Afghans and Pakistanis lost their lives. Despite heavily military hardware use and diplomatic involvements, the US seemed to witness difficult position in reshaping Afghanistan's socio-political structure. But, Donald Trump, as the 45th president of the United States, discontinued Obama's policies.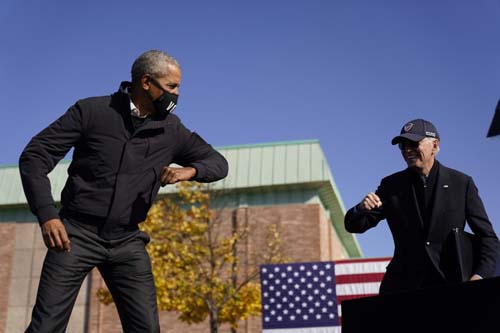 Mr Trump initiated a new economic war with China, halted almost all relations with Iran and slowed the process of US troops withdrawal from Afghanistan. Most of all, US relations with Pakistan were never impressive it was during Obama years. Obama went an extra mile ahead when he made India realize that any security instability in Pakistan may lead to an intense consequence for India as well. Obama believed that if Pakistan failed to control extremism, it (extremism) will somehow storm into India by hurting Indian economy intensively. Obama also believed that as his administration ramps up US military duties in Afghanistan, the United States logistical necessities will depend upon Pakistan. With this, Obama had to adopt more impressive policies which shall engage Pakistan's military and political leadership engaged with the United States.
However, Donald trump's policies went opposite to Obama had initiated. Mr Trump inclined towards India and ignored Pakistan's assistance in the war against terrorism. He also froze military assistance to Pakistan, claiming that Islamabad was not doing enough and there is a dire need of "do more" actions. This resulted in a "frustrated relation" between Pakistan and the United States. Mr Trump finally realized that peace in Afghanistan is (almost) impossible without Pakistan's assistance. In this regard, the US military leadership restarted its connections with Pakistan to bring Afghan Taliban on the table for its final call to withdraw the remaining troops on Afghan soil. Pakistan hosted talks between the Afghan Taliban and relevant stakeholders, multiple times. Finally, the US and Afghan Taliban reached an agreement, sticking with a commitment to bring peace and stability in Afghanistan, with the help of Pakistan. Trump announced to withdraw almost 8,600 remaining US troops from Afghanistan. The Afghan Taliban will also provide a safe route for US soldiers to fly back home. Last October, Donald Trump, in his tweet, surprised the world saying that the US troops to be called by before the Christmas this year (2020).
The overall process seemed to be impressive and rational. The much-awaited Afghan peace process was finally coming to end. Despite all these initiatives, the new elect-president Joe Biden says that he favours the Afghan peace process but will not let all soldiers leave Afghan soil. Biden suggests that between 1500 to 200 US soldiers will remain in Afghanistan to counter any terrorist activities by the banned terrorist groups in Afghanistan. Such a statement may leave another frustrating year for Afghan Taliban who already agreed to provide a safe exit for the US soldiers from Afghanistan. If the United States intend to leave even a single soldier, it will defy the commitment made by Mr Trump for the Afghan peace process. Meanwhile, it will open a door of discussion whether Pakistan would afford to re-launching peace talks between the new US administration and Afghan Taliban. On the other hand, Pakistan and India will remain in Afghanistan to serve their own political and security interests. With this, Washington D.C. may experience another India-Pakistan catastrophe situation which may weaken the overall regional stability and also create new-fangled tensions between U.S. partners in New Delhi and Islamabad.
The writer is Islamabad-based journalist and PhD in Peace and Conflict Studies