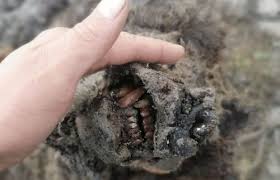 39,000-year-old cave bear found in perfect condition
By Alexandra Baff
Moscow: Scientists in Russia have discovered the frozen bear and its cub, both of which were in a perfect condition. It is believed that the bear could be as old as 39,000 years old.
The bear and its cub were found by reindeer breeders on the Lyakhovsky Islands and it is believed that the bears are so well-preserved due to the permafrost. Permafrost is a layer of the ground that remains frozen for two or more years, so this would keep the bear looking relatively young for longer. Scientists in the past have even been able to find mammoths well-preserved due to permafrost!
Even the bear's nose and teeth were intact before this discovery scientists had only been able to find the bones of cave bears that had died as recently as 15,000 years ago
The find has been hailed as groundbreaking by scientists at the North-Eastern Federal University in Yakutsk, which also acts as a centre for research into mammoths and prehistoric species.
Dr Lena Grigorieva has described the find of the adult bear and its cub as "the first and only of its kind" because it is "a whole bear carcass with soft tissues." However, a radiocarbon analysis will have to be carried out to determine the exact age of the bear but a preliminary analysis has shown that it is between 22,000 and 39,500 years old.
In recent years, some major discoveries have been made in Siberia as the permafrost continues to thaw there. Some of the animals that have been uncovered include mammoths and woolly rhinos, so hopefully more animals will be uncovered soon!